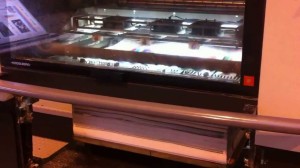 When it comes to buying printing machines, we will often find that it is cheaper to buy a used printing machine, rather than buying a new one.
Even though there are certain services we can enjoy when it comes to buying a new printing machine, such as the warranty and irreproachable printing quality, buying used printing equipment may still be the better choice, if we are just starting out and don't want to spend all our budget on one machine.
The fact and the matter is that, if we know how to choose the bad from the good, we'll be able to buy a used printing machines for two thirds or half the price of a new one.
However, before rushing to the market to browse and buy, we need to make sure that we know exactly what we want. Depending on what we're going to do with our used printing equipment, or more precisely, depending on what we want to achieve, how we want to achieve it and how fast we want to achieve it, we need to decide between the various types of machines available.
If we need to print solely on paper, then we have the choice to get either a laser printing machine or an offset printing machine. If, on the other hand, we need to print on packaging materials, then we will need a flexographic printing machine. For printing on other materials, such as metal, wood, ceramic, or clothes, we will need a screen printing machine.
Of course, choosing the type of used printing equipment that we will want to use will be easy, the hardest part being that of knowing exactly what quality we will need our prints to have, as well as how fast do we need the machines to be. Depending on what type of business we are running, and how much time we will have between orders, we can get faster or slower printing machines.
For example, if we need to print many pages in a very short time, then we will need to opt for an electrostatic print machine, because of its very high speed. Laser printers are the most commonly known machines that have a high speed of printing. On the other hand, if we don't really care about the speed of the print, then we can go for the ink jet printing machines.
Probably one of the most important factor when deciding what type of printing machine to get is the quality of the print. Again, depending on the type of business we are running, and the specific purpose of the printing machine, we will want something that provides us with average or high quality prints.
Machines such as laser printers and offset printers are the best choice when it comes to high quality, whereas flexographic machines are known to provide a lower print quality. If we want something that will provide us with an average quality for the prints, then we can choose an ink jet printing machine. We have to keep in mind that ink jet machines print lesser pages per minute than other types of printers.
You can find a bunch of used printing machines on specific web sites, which allow you to find out specifics and relevant information about their previous owners. A website of such sort if AllForPrintMarket (allforprintmarket.com), which offers you a great range of scond-hand and qualitative printing equipment.
Read more news :
1. KBA and Vinfoil Develop Compact Cold Foil System
2. Swedev Laser Marking
3. Mercian Labels Wins Major Industry Award
4. Expo teams up with T.E.D to serve up packaging solutions for the future
5. MakerBot aims to put a 3D printer in every school, and wants you to help pay for it
Tagged: AllForPrintMarket, buy, ceramic, ink jet, lesser, metal, paper, such, type of printing machine, used printing equipment, wood